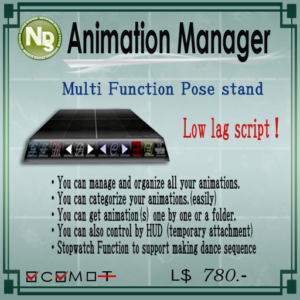 [NDS]Animation Manager is a support tool to manage all your animations easily.
* Pose Stand
You can use AM as a pose stand.
height adjustable.
Text position switch.
Selectable animation index directly
* Categorize
You can manage your animations under some categories.
Category names are freely.
An animation can have some categories.
* StopWatch
You can measure the time between anims under a category.
it will put on chat log as (animation)name|second. its very helpful to make macros.
*Receive Anim(s)
You can receive animation(s) as only one or by a folder named category.
* Receive HUD as a temporary attachment.
You can control AM by HUD.
HUD is sent from AM and attach immediately as a temporary attachment.
So that the HUD won't be your inventory and make you not to search your inventory.
* Low Lag System
There are many scripts,but some scripts are worked only if they need.
* Preload
The preroad is the system which performs reading of an animation.
This system reads the animation in the main body, and by 30 regenerates it every five seconds.
* Transfer animation
It can transfer the animations in the category to the object which you like.
You can use your Dance HUDs or Sheets more useful.